Cisco Solutions Deliver the Right Outcomes
What happens when Cisco's affordable, reliable and secure IT solutions merges with our comprehensive end-to-end services? Growth.
Cisco® provides the network, data center, collaboration, and security solutions to fit your exact needs. Together we help businesses adapt and respond to today's challenges.
Two decades of partnership
We are a Cisco Gold Partner with over 20 years of experience serving clients. Collaborating with Cisco allows us to create seamless end-user experiences for the best business outcomes.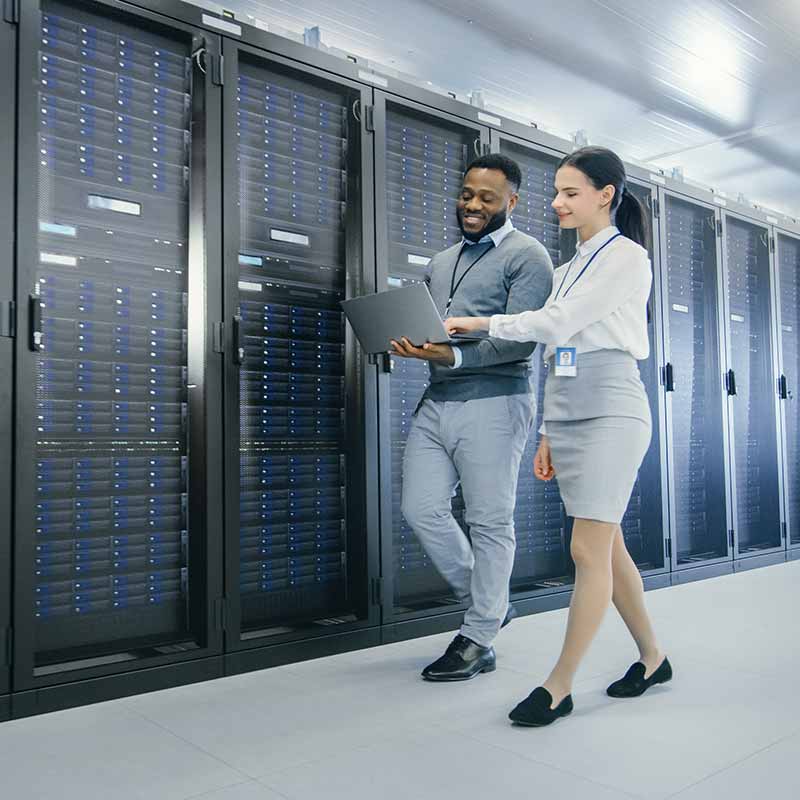 IoT solutions to help streamline operations and expose new areas to drive revenue

Cloud and integrated systems to enable simplified management and better cost control

Security technologies and services to address the full security attack continuum

Networking solutions to deliver an anywhere, any device mobile experience and address BYOD challenges

Our IntelliCare Services to proactively manage and monitor your Cisco network assets
"...some of the top minds..."
"One Friday, an issue arose and the entire network came to a standstill. I brought in some of the top minds in our area— government analysts and top analysts at our partner CompuCom—to try to identify the problem. Given what Meraki allowed us to do in such a short period of time, we're also looking to upgrade our entire phone system, consisting of thousands of resident and staff phones. We're working with Cisco and our partner CompuCom on that right now, and I'm looking forward to tackling this next project.
- Dylan Fresh, Technology Manager at St. Mark Village -

---
Let's begin building a better workplace.
---
A Cisco Gold Certified Partner
Certifications Keep Us Up to Date
US Certifications
Registered Partner 
Gold Certified Partner 
Master Collaboration Specialization 
Advanced Enterprise Networks Architecture Specialization 
Advanced Collaboration Architecture Specialization
Advanced Data Center Architecture Specialization
Advanced Security Architecture Specialization
Cloud and Managed Services Master
Canada Certifications
Advanced Security Architecture Specialization 
Cisco Umbrella for MSSPs
Collaboration SaaS Authorization 
Customer Experience Specialization 
Master Collaboration Specialization 
Advanced Collaboration Architecture Specialization
Advanced Data Center Architecture Specialization
Advanced Security Architecture Specialization
Cisco Hyperflex Authorization 
Cisco Unified Contact Center Express Authorization 
Gold Certified Partner 
Master Security Specialization 
Cloud and Managed Services Master
Blog: The New Employee Experience

Given the large shift in how employees work and where employees are working from, it is clear that the employee experience has been forever altered. Which means, the methods organizations use to measure employee experience need to be updated. The employee experience plays a key role in attracting and retaining top talent, so businesses should pay attention to the…

Read more »

Whitepaper: The Future of Work Accelerates the Need for IT End-User Personas

Personas give IT and the business a common understanding of employee requirements and help to identify the appropriate "tools" that each employee needs to be the most effective and efficient at performing their job.  View or download to learn how you can apply personas to empower your end users

Read more »

Announcement: Living Green Award Recognizes Eco-Conscious Purchase Practices

We celebrated Earth Day on April 22nd as the anniversary of the birth of the modern environmental movement. However, sustainability isn't a single day activity. It's a year-round commitment to systematic changes that will sustain our planet.

Read more »