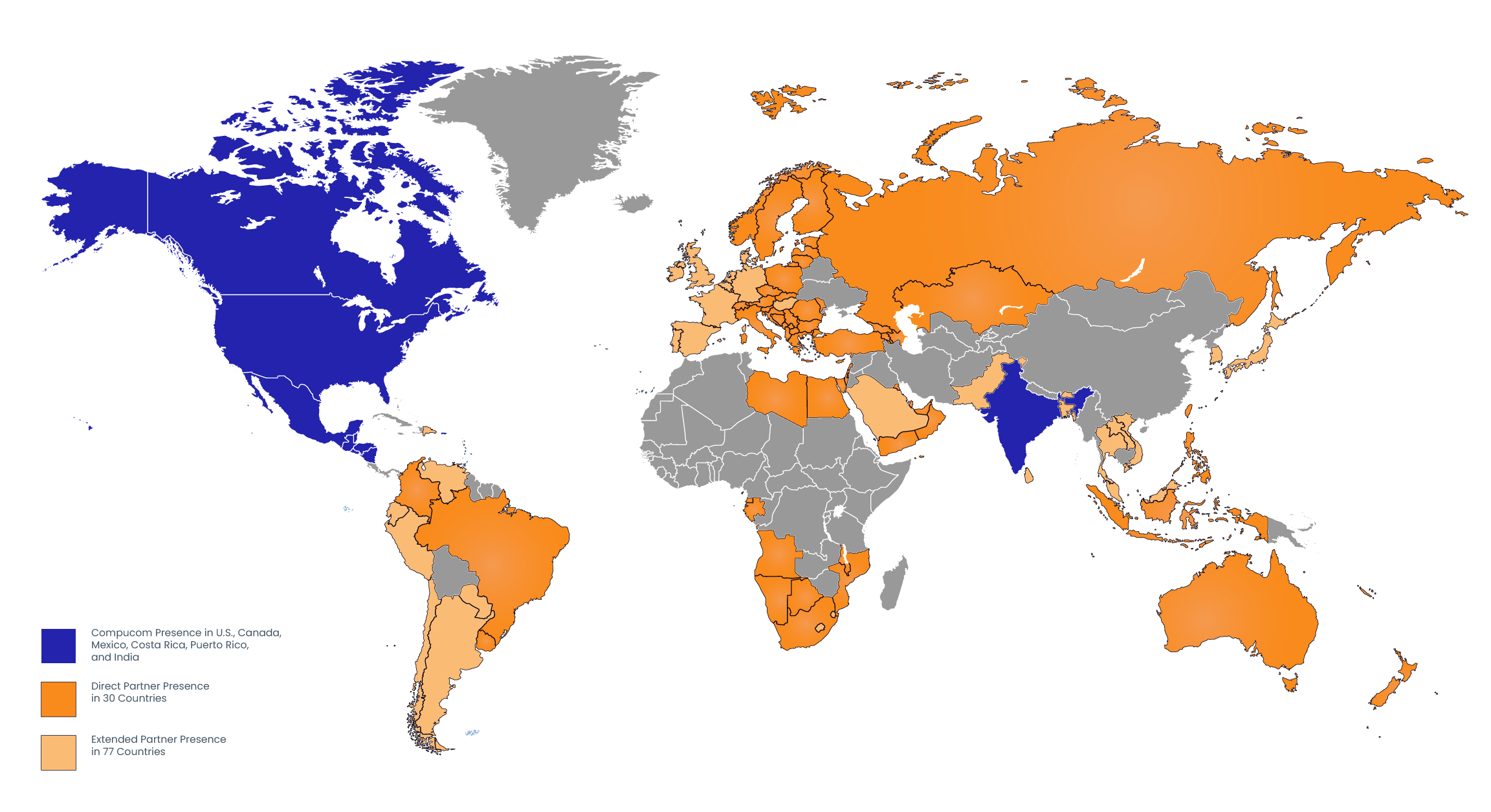 Where We Support Our Customers
Just like you, we have a global presence. So wherever your work gets done, we serve you 24/7/365.
We provide full coverage from 15 support locations in the United States, Canada, Mexico, and India.
Compucom Headquarters
8106 Calvin Hall Road
Fort Mill, SC 29707
803-228-7400
Advanced Configuration Center
1225 Forest Parkway, Suite 500
Paulsboro, NJ 08066
856-224-5100
Louisville Technical Operations Center
10100 Linn Station Road, Suite 400
Louisville, KY 40223
eXcell
2018 156th Ave. NE,
Bellevue, WA 98007
Compucom Canada is a leading IT solution provider that helps businesses transform their operations and meet their strategic objectives. With widespread offices and business representatives, Compucom Canada provides technology solutions for the entire country.
Canadian Headquarters
1830 Matheson Boulevard, Unit 1
Mississauga, ON, Canada L4W 0B3
289-261-3110
Toll-Free: 800-268-2106
Montreal
8453 Albert-Louis-Van Houtte Avenue
Montreal, QC, Canada H1Z 4J2
514-747-8333
Configuration Center
4175 14th Avenue
Markham, ON, Canada L3R 5R5
Unit 5 Dock 21-23
289-261-3290
Ottawa
2280 St. Laurent Boulevard, Suite 101
Ottawa, ON, Canada K1G 4K1
613-247-7300
Compucom India has its state of the art facility in Pune. The Pune delivery center provides IT infrastructure support and application development to all of our North American Customers.
Compucom does not charge any fee at any stage of the recruitment process and has not authorized agencies/partners to collect any fee for recruitment or send job offers from free internet email services or ask you to deposit any money giving job offers to experienced professionals or fresh graduate trainees. If you encounter any suspicious mail, advertisements, or someone who offers jobs at Compucom, please let us know by contacting us at india.careers@compucom.com.
EON Free Zone
13th Floor, Tower B, EON Free Zone II (SEZ),
Located at Survey No. 72, Hissa No. 2/1,
Kharadi, Pune - 411014
Maharashtra, India+91 206 724 7888
Compucom Mexico delivers world-class IT services out of two centers in the country's capital, Mexico City. Today, Mexico is Compucom's largest offshore delivery hub, serving more than 30 client organizations in five languages (Spanish, English, Portuguese, French, and German).
Compucom Mexico City
Av. Insurgentes Sur No. 1431, Piso 2
Col. Insurgentes Mixoac, Del. Benito Juarez
Mexico City, 03920
+52 55 1500 3795